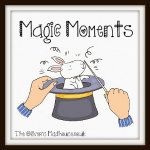 Things have been hectic in the Marquick household this weekend due to our move drawing ever closer, so I've cheated this week and am re-publishing an old post as my Magic Moment this week.
So, without further ado, here's my post from December 2012 - Samuel's School Play.
Nothing could have prepared me for the overwhelming sense of pride and happiness watching my 9 year old son taking part in his first Christmas play at his new school.
Yes he's 9 and as I said this is not his first Christmas play, but now that he is at a special school it is the first play that I have watched him not only take part in, but stand with confidence, speaking his lines like a true professional.
The opener to the play was a "behind the scenes" film. The children in my sons class had been filmed talking about their parts in the play and introducing the other classes and their involvement. The film had an element of comedy about it, with Samuel and his friend really pulling off a fantastic introduction to the early years part dancing to "we like to move it". Of course I couldn't help but allow a huge tear drop to roll down my face, although glad that the hall was dark for the film showing and I could dab my face dry privately.
The play itself followed the traditional nativity story, and Samuel, along with his classmates were the narrators. Children from the other classes in the Junior section took the parts of Shepherds, Wise Men and Angels, and the early years children were the animals in the stable.
It was a privilege to watch the play, each child did so very well. The audience clapped loudly at every opportunity, and I continued to allow those silent tears to drip slowly now and again.
Sadly I am unable to share with you the film clip and photographs I took during the play as they include other children, and the school rules state that these cannot be shared on the internet, but I did manage to snap one picture of Samuel whilst he was speaking, alone on the stage, so here he is....my narrator.
Most definitely a deserving Magic Moment.